As an Authorized Dealer for Haulotte Group, we are proud to offer the following Products:
BRAND NEW TOWABLE TRAILER-MOUNTED BOOM LIFTS
The multiple possibilities for use at heights of between 43 ft and 61 ft, both indoors and outdoors, make trailer-mounted booms the most popular type of platform with skilled tradesmen and local communities. Their compactness and lightweight allow them to be towed to any site. Hydraulic outriggers correct uneven ground levels with an industry leading 12.5% leveling capability. Trailer-mounted booms are available in both articulated and telescopic models.
2022 Haulotte 5533A Towable Boom Lift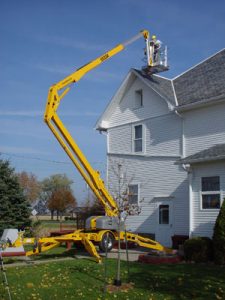 DRIVE FROM THE BASKET (This unit has drive motors)