TriStar Telehandler Tire Exchange Program
[columns] [span6]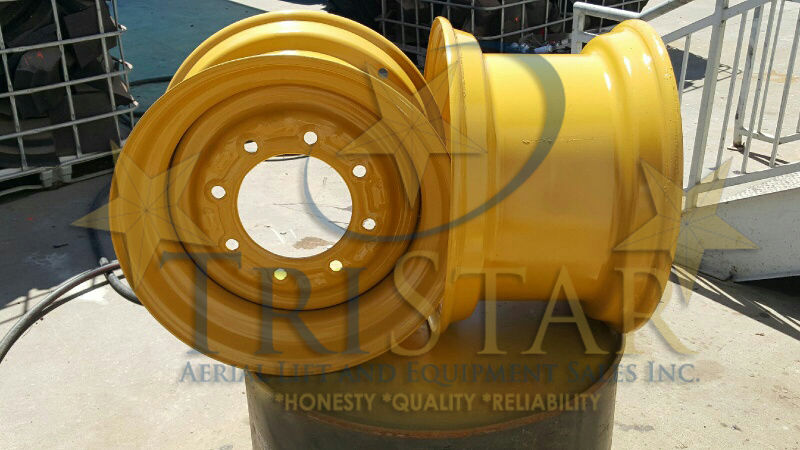 [/span6][span6]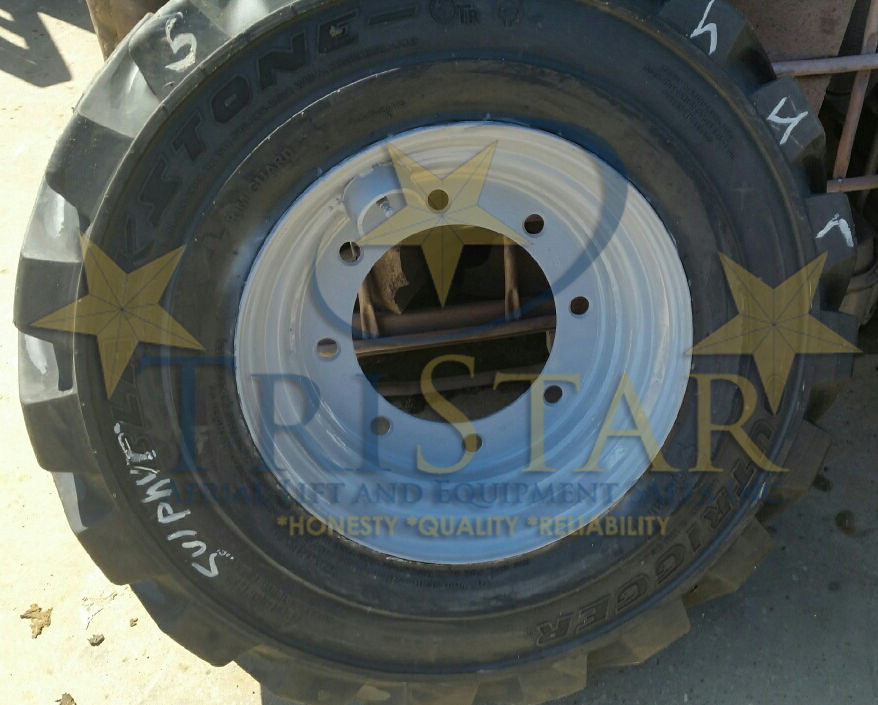 [/span6][/columns]
(Set of 4) 4 x 13.00-24 Telehandler Foam Filled Tire w/ Refurbished Rim = $5,495.00 w/ Free Freight. (Depending on Location)
(Set of 4) 4 x 14.00-24 Telehandler Foam Filled Tire w/ Refurbished Rim = $6,400.00 w/ Free Freight. (Depending on Location)
(Set of 4) 4 x 12-16.5 Telehandler Foam Filled Tire w/ Refurbished Rim = $3,855.00 w/ Free Freight. (Depending on Location)
Other tire sizes are available you'll need to contact parts department for these costs @ 478-595-0580
Additional Information & Details Required
1. Core Charge may apply to your order, at $350 PER RIM. Core Charges are refundable if Core is accepted.
2. High Quality Photos of each rim/tire, with close up photos of the lug nuts and rim are REQUIRED prior to purchase.
3. We do factor in some of the freight cost for these wheels in the original cost of the above tires, but depending on the location this amount is subject to change . (Free freight is Available depending on your location.)
4. Freight is a non-refundable charge after orders are processed.
How the Program Works.
1. You purchase how ever many tires you are in need of (volume pricing available by phone)
2. Your order is processed and your order of new tires & wheels is shipped directly to your facility or job site!
3. You send us back your old tires & rim, complete, via pre paid freight service offered by TriStar Parts Express.
4. You now have new tires and don't have to pay to dispose of the old ones.
FAQ – Frequently Asked Questions
Q: Is the actual tire brand new?
A: Yes, all of our tires are brand new and are industry rated.
Q: Do you "CHUNK" your foam filling?
A: Absolutely NOT. Due to our large foot print within the LARGE rental market we elected to take the high road many years ago and discontinued that practice to meet OEM safety requirements.  We do use a granulator machine that grinds the old fill down to size that allows us to blend a rate that is around 40% liquid and 60 granulated fill.  Which is a OEM accepted practice.  This blend amount can vary depending on the size of the tire regarding durometer tire requirements.
Q: What makes your tires special?
A: One of the most important elements of the fill process is "tire stretching".  This is done by air filling the tires to spec psi and letting it set for a minimum of 24 hours.  This stretching practice ensures that the tire is being filled to capacity and eliminates potential tire failure non and "flat spot".
Q: What about returns or the warranty for bad tires?
A:  Our warranty return rate is relatively nonexistent within the industry and if we do have a failure we generally warranty it with zero requirements on the customer end.  Meaning it happens so infrequent that we just send the customer a new one ASAP!